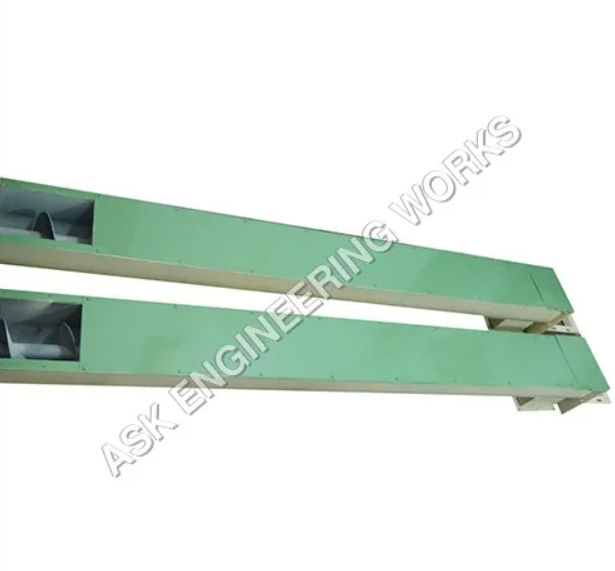 The Screw Varam Conveyor is a type of belt conveyor which is made of metal and used for industrial applications. It is available in green colour and polished.
The screw conveyor is the mechanical device rotated as per the speed regulation and spins with its connection to the spin tube. It is required for the movement of liquid or solid material in slot-by-slot regularly. Its design features international standards. It consists of a scroll blade tube coiled around the rod. Its speed varies by changing the rate of spin and varying the quantity of material to be passed through it. It is one of the most used industrial units.
It can also be used to pump water with some different techniques. It is used to mix products and break up huge pumps. Depending on the rate of heat transfer, it can heat, cool, or dry the materials in transit.
Some great of it is that it consumes low power. Apart from this, it has a standard finish and you do not need to worry about its service life and maintenance at all.
If you are looking for a standard conveyor, Screw Varam is the one to serve your purpose at an affordable price. Its manufacturing has happened in Hyderabad and from there it is exported all over the world. The machines are having high demand due to the flexibility and high-performance benefits.
The machines listed in the catalogue are not easy to make or operate. It only happens due to the virtue of the supervision of professionals and expert engineers. Their years of experience become fruitful to bring effective changes in the machines and new ideas make it more efficient in the competitive market. Superior quality raw materials are preferred here for any kind of product manufacturing scenario.
After production is over, testing has happened for the machines to trace their performance and quality. The Screw Varam Conveyor manufactured in India has outstanding features. It includes:
• Handling of bulk material without much focusing on its characteristics.
• High adaptability as inlet and outlet is omnipresent at any point.
• It occupies little space inside the factory and thus there is no headache of maintenance tasks.
• It has designs for any materials with favourable capacity and applications.
Benefits you expect from Screw Varam Conveyors:
These conveyors offer some versatility with greater efficiency. It converts large palette bulk materials as well as sub-micron bulk materials for operational easiness. It is effective to use for both free-flowing and non-free-flowing blends and material without any separation in blended products.
The Screw Varam Conveyor Suppliers in India are available to cater great support which is most important for implanting the mobility. It reduces the need for multiple units inside the factory.
These amazing features are very beneficial towards satisfying demanding and diverse requirements for end-users. The conveyor model you choose is designed by experts for property safety with great convenience. You will get the models within affordable price ranges. For more info, you can raise your queries in the industrial sector portal.